Verse of the Day for Saturday February 21st, 2015:
We give thanks to you, O God, we give thanks, for your Name is near; men tell of your wonderful deeds. —
Psalm 75:1
Thoughts on Today's Verse....
"What a wonderful God we serve!" More than just the words of a song, these words are true beyond our understanding. To be so powerful, vast, and marvelous and yet still know us and bless us with his personal attention and care is beyond understanding. Yet God sent Jesus to remind us that he is not only God Almighty; he is also Immanuel, God with us!
My Prayer...
Thank you, dear God, for being mighty, for being gracious, and for being near. Most of all, Father, thank you for being you! In Jesus name I ask you to receive my thanks and praise. Amen.
The Thoughts and Prayer on Today's Verse are written by Phil Ware. You can email questions or comments to
phil@verseoftheday.com
.
---
Today's Verse Illustrated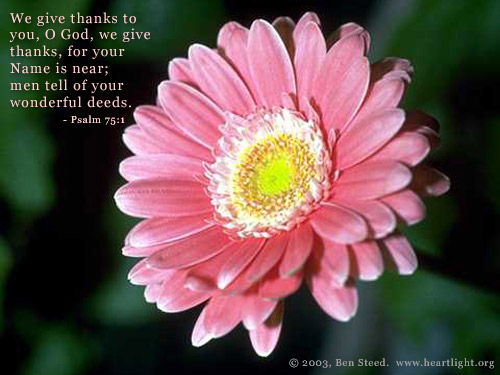 HOW DO I SUBSCRIBE? It's FREE! To subscribe send a blank email to: votd-en-subscribe@maillists.verseoftheday.com



© 1998-2015, Heartlight, Inc. Verseoftheday.com is part of the Heartlight Network.